Boundaries are finally moving in the world of Cobalt. M&B magazine met in Kinshasa Jean-Dominique Takis, General Manager of Entreprise Générale du Cobalt. In a long interview with our publication, he revealed his strategy.
An original government initiative, Entreprise Générale du Cobalt synthesizes the ambition of the Democratic Republic of Congo to improve the working conditions of its artisanal miners while regaining control of a substantial part of its national cobalt production.
Can you introduce yourself in a few words?
Jean Dominique Takis. I was born in Kisangani in February 1960, at a time when a lot of things happened… Independence followed shortly after my birth. The conflicts, the problems in which this country quickly found itself led my parents to take us away to a safer place. I ended up in Belgium when I was three years old.
Three years old?
Yes, too young! I did my kindergarten and all my primary education at the boarding school. We received a very good education, even though it was a bit rough. Then I left Belgium for Switzerland where I did my high school and university studies and went to the United States where I did an MBA in finance at George Washington University.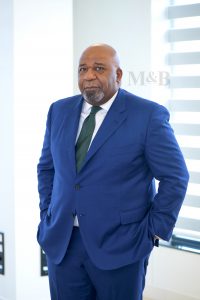 Did you always plan to return to your home country?
Yes, it was always clear in my mind that I was going to come home to strive to make a difference. Young people always have their dreams! But we were already at the end of the 80s; the political sequence that is well known will lead us to the end of the Second Republic through the Sovereign National Conference, the speech of Marshal Mobutu of April 24, 1990 opening the political space, and then unfortunately the looting that caused us a serious blow. I imagine that people of my generation felt a sense of frustration.
Have you been involved in politics?
I pursued this commitment through an elective mandate and I was elected in Haut-Uélé, where I am from, on the border with Uganda and South Sudan. So I spent twelve years in the National Assembly from 2006 to 2018, during which time I really had the opportunity to travel to the far regions of my country to reach my constituency.
I imagine that this knowledge of the deep country will help you in your new role…
Indeed, I think that this experience is and will always be very useful to me within the framework of the project that we are initiating today with Entreprise Générale du Cobalt. I learned a lot about artisanal mining when I was in politics, because in Haut-Uélé, there are also artisanal miners. They are gold miners or diggers in search of diamonds. These are not the same minerals, but it is the same destiny, the destiny of people who are forced to sacrifice a lot of their health to feed their families.
To fully understand this country, you have to go very far into the depths of the Democratic Republic of Congo. I remember in 2006 before the campaign, in Dungu in Haut-Uélé, how landlocked this territory was. It was young people who made it possible to open up the Ugandan border by bicycle in order to bring back the basic necessities: water, salt… and beer. I can tell you that these young people who were barely 25 years old looked like they were 45, because of how draining these journeys are. How many lost their lives on these roads with the torrential rains, twelve beer crates on the back of the bike, the instability, the malaria… Seeing this suffering was one of the reasons that led me to reviewing the mining code in the National Assembly. We adopted this revision, which caused such a stir, in order to rebalance things, to rebalance the industrial partnerships that are involved in the exploitation of minerals, between investors, but also local communities and miners.
With EGC, we are now committed to ensure that artisanal miners who exploit cobalt can do so with dignity.
Let's go back to your return to Congo. How old were you when you returned to the country?
I was 27 years old when I came back to the country and I first worked at OZAC, now OCC, where we were rejuvenating the workforce… I worked there for two years, helping with the installation of a computing system. It is thanks to this experience that I started my own business in the IT industry by working with ASYST.
For how long?
Until the looting! The family had to be evacuated in 1991 because the situation had completely deteriorated in Kinshasa, culminating in the new looting in 1993. It was at this time that I joined a political cabinet where I became deputy director of cabinet. Then I joined a private company with Belgian capital and was asked to join them as financial director and then general manager until the arrival of Kabila father. And there again, a story of rupture and difficulties.
You were forced to send your family back to Belgium? So history repeated itself.
Absolutely! It took the situation to stabilize for them to come back. From 1999, I spent almost four years in Europe for one of my children who had a health problem. This meant that we spent a lot of time away from home, but we were able to resume our life in Kinshasa in 2004.
Let's come back to EGC. You must have been at the center of the discussions for the creation of the company. How did that happen?
I was an administrator at Gécamines, I spent ten years as an administrator alongside the Chairman of the Board of Directors, Albert Yuma-Mulimbi. During contacts with our partners, traders, we perceived the evolution of demand for cobalt before 2018. We wanted to be able to take advantage of this momentum, driven by the demand for cobalt, which was increasing year after year alongside the development of electric vehicles, smartphones etc. requiring cobalt batteries.
The idea was to capitalize on this craze even though Gécamines did not have a significant cobalt production. The big industrial producers are well known, some are partners of Gécamines, notably KCC. But how could we independently step on the cobalt industry stage?
With the rise in the price of cobalt in 2018, we saw an almost exponential increase in the number of artisanal miners who at the time were digging in their kitchens, in their gardens, or for industrialists' permits.
As soon as there were these problems of invasion in the mining permits belonging to the industrialists, but also, and perhaps above all, in those of Gécamines, we understood that artisanal cobalt could be, and should be, controlled and that this could only be done at the initiative of the public authorities. So the President of the Council defended this approach and he succeeded in convincing the authorities. The authorities understood the interest of this proposal, but new elements came to help us and accelerated the adoption of a new regulatory framework.
What were they?
The difficulties encountered with the final buyers because of the conditions under which this cobalt was produced, involving the presence of children and women in the artisanal mines. The country's image was very much affected and the government realized that it was necessary to put things in order as soon as possible.
Which minerals does this new framework cover?
We are starting with three strategic minerals: cobalt, coltan and germanium.
Eventually, will it also be extended for the two other main strategic minerals?
The decree has set up a commercial company whose shareholders are the State and Gécamines. Its purpose is precisely to manage the purchase and marketing of these strategic minerals through a monopoly granted by the State. The name EGC, Entreprise Générale du Cobalt, serves to demonstrate that cobalt is our priority. Of course, the model we are putting in place is a dynamic, expanding model, which is intended to be extended to other strategic minerals and, tomorrow, perhaps to other minerals that could be put on the list of strategic minerals.
The monopoly therefore concerns artisanal cobalt. It is estimated that there are between 150,000 and 200,000 artisanal miners. If you take into account families, the people who depend on artisanal mining, you will easily get to over one million people. Hence the need to ensure that a framework is put in place to enable these people to carry out this highly arduous work under guaranteed safety conditions, but also to be able to move on to other activities in the context of a possible retraining.
If we compare DRC's artisanal ore production and the industrial production today, what is the percentage of both?
Last year, when the price of minerals had fallen sharply, the artisanal production in DRC amounted to between 7,000 and 10,000 tons. World production was 120,000 and 130,000 tons. The DRC produced nearly 70% of this, or about 94,000 tons. It is estimated that when the price was higher, artisanal production was between 20,000 and 25,000 tons in 2018.
Following the invasion of mining permits, artisanal mining zones were entrusted to cooperatives by the authorities, such as Kasulo in Lubumbashi. We believe that there is a real potential to fill the market deficit that will occur in the short term. The market will be in deficit around 2024/2025 and unless there are other large industrial projects coming to market, existing plants do not have infinite elasticity to meet the demand of battery manufacturers, especially those of electric vehicles.
In 2019, prices collapsed shortly after cobalt was declared a strategic mineral. Labs have since then succeeded in finding alternatives to cobalt in the battery manufacturing process.
There has been many discussions on this subject. Cobalt is a mineral that stabilizes batteries by preventing them from overheating. We remember the famous Smartphone that was banned from airplanes because the batteries exploded. It is precisely because they had tried to reduce the percentage of cobalt in the battery. The battery industry is not ready to repeat this experience.
On the subject of EGC's objectives, the state-owned company will produce about 8,000 tons of cobalt in the form of hydroxide in 2021, is that correct?
Yes, 8,000 tonnes is the target for this year because we will be putting in place a comprehensive system to ensure that we meet the best standards of supply in a way that respects workers and the environment. Once we have done that, as the year is already well underway, our goal will be to then reach 15,000 tons next year, as we will have several sites in operation.
What is your business model?
Our business model is based on a profit-sharing approach between all the players: the miners, of course, who extract the ore, the state, which set up the system and which should benefit from the exploitation of the resources, and EGC, which executes this public policy on behalf of the authorities. The idea is that the margin earned should benefit the DRC, not an unscrupulous system that does not pay what it owes, neither to the artisanal miners nor to the state.
What is the nature of EGC's relationship to Trafigura?
Trafigura is our commission agent. They work with us under a mandate, and they will receive a commission on the sale. They don't act like a traditional trader who buys a product and then does what he wants with it. Trafigura's mission is to offer us clients and contracts, as beneficial as possible, because they are experts in the markets and this is a strategic product. Then, of course, there will be discussions at the EGC level to determine our sales strategy with regard to this or that end buyer, such as car manufacturers who are looking to secure the supply of this element that is essential to their development. But there could also be discussions, at the national level, from state to state with this or that country in the framework of the DRC's relations with its partners. Please keep in mind that we are talking about a mineral of which the DRC is by far the first producer and exporter in the world and where the vast majority of the known reserves on the planet are located, which is why it is that strategic.
Is that why you established a 50% safety margin for direct sales?
Not really, because even out of the 50% that Trafigura will market on our behalf, it is EGC that will ultimately decide who we sell the ore to.
Trafigura was then chosen as your agent. Was this decision resulting from an international tender?
Yes, of course, there was a restricted tender. When His Excellency, the President of the Republic, Felix-Antoine Tshisekedi Tshilombo in his State of the Nation address in December 2019, spoke of the initiative taken by the DRC in cobalt, there were expressions of interest to which we responded. Trafigura already had a strong experience with the Mutoshi pilot project (Chemaf). So these were important arguments in their favor, in addition to them being renowned traders with deep network in the DRC's mining industry. However, this 50% margin allows us to open up to other partners.
Is the contract public? Can we see it?
(Laughter) We have had discussions with the EITI about publishing the contract. I said, I don't have a problem, because it's a good contract. But we explained that it was a commercial contract and that in a commercial contract there are clauses that fall under the heading of business secrecy, clauses to which the competition is not bound, which is unfair, unless you think that a buyer who buys from a private industrialist should not publish his contracts, and that a buyer who buys from EGC should do so.
On the other hand, I would remind you that while the Congo exported 1,500,000 tons of copper in 2020 and nearly 100,000 tons of cobalt, commercial contracts were nowhere to be seen. No one is asking for them to be published, even though they involve, at the very least, sales figures of between 10 and 15 billion dollars.
But EGC is committed to being a model of transparency, right?
Absolutely! But transparency has to be symmetrical with all players to be fair. We reminded EITI officials that the 1,500,000 tons of copper and 100,000 tons of cobalt coming out of this country are often under contracts that link DRC-based producers with subsidiaries of their parent company outside the country. If you're looking at why the DRC is not benefiting as much as it should from the commercialisation of its raw materials, perhaps you should also look for clauses in these contracts that provide for favorable prices for the buyer. It was decided that they would invite us to present the contract, showing them the clauses that we wished to keep confidential in order to preserve the commercial interests of our partners and future buyers.
You have indicated that from 8,000 tons produced in 2021, the objective for 2022 would be 15,000 tons produced. Is this a doubling of production with the Kasulo site in Kolwezi alone?
Kasulo is the first pilot site, so to speak. Kasulo, which you mention, is located on a Gécamines site and it is no secret that Gécamines is the parent company of EGC which owns 95% of it and a remaining 5% owned by the State. Discussions with our parent company are currently in progress to set conditions that will allow EGC to increase its presence in the artisanal mining scene in cooperation with Gécamines. You may have heard that most of the "Fair Cobalt Alliance" or "Global Battery Alliance" manufacturers are opening up to the artisanal industry. Remember, 3 or 4 years ago, they did not want to hear about it. Now the discourse has changed. Let's just say that for big producers who operated alone in the cobalt market, the fact that the DRC is setting up a company that is going to be present and speak on behalf of the world's leading producer is perhaps no what everyone wished for…
As a result, the arguments we heard for many years, such as "Miners are unmanageable" or "There are risks to our image", have been put aside. Now we hear: "There will be training, we will help people, we are positive". And the industry is mobilizing through a large number of initiatives.
Moreover, one might think that the creation of EGC will not please certain actors who were involved in the cobalt industry, and who have been widely stigmatized by many NGOs in recent years. When a company produces 25,000 tons of cobalt in a year, traceability is an important factor.
We believe that the cohabitation between industrial and artisanal miners is possible. There are solutions that can be developed. Take for instance the experience of Chemaf which has a mining permit, a site, a plant and was faced with the threat of artisanal invasion. To solve this problem, they hired Trafigura and the NGO PACT to supervise all this activity. For us, this is a lead. There is a potential for artisanal mining to work with each one of the large industrialists should they wish, because EGC has a monopoly. The basic idea is that all the cobalt coming out of the artisanal sector goes through EGC and that the label "origin: DRC" becomes clean.
Artisanal diggers or miners also means shovels and picks. Will you help them with a minimum of mechanization?
Yes, absolutely. The mechanization of artisanal miners begins when we ensure the uncovering of sites for artisanal production in dignified and safe conditions by minimizing the drudgery and maximizing the safety of the site and the operations. This also means that protective equipment, first aid equipment and toilets must be provided, the restoration of workers must be facilitated, sites and surroundings must be secured. We have committed to do the overdraft. According to the law, we are not allowed to go down more than 30 meters in the galleries but we have decided to go beyond the norms and will use shovels to ensure that the shafts do not exceed 10 meters in depth. As for tunnels, they will be strictly forbidden and each cooperative wanting to sell its cobalt to EGC will have to respect EGC's standards in this regard.
So you will be using Congolese subcontractors?
Yes, we are going to follow the law on subcontracting, to make equipment available. The idea is that Congolese people can invest in the mining sector. When I was a member of parliament, I campaigned for local subcontracting, along with all the people who were involved in this fight. Everything must be done to promote Congolese subcontracting, which will enable people to take ownership of the activities in this sector and perhaps one day create new millionaires.
Integrity and transparency are some of promises made by EGC. Transparency is a big first, isn't it? What are the guarantees for the Congolese people? Who will do the audits?
As far as our activities are concerned, there are the classic meetings of the shareholders, Gécamines and the Congolese state. We have an internal auditor, of course, and an external auditor. In addition, we work with the NGO PACT, with which we have signed an agreement for additional support. This American NGO, which has specialized in artisanal mining will bring us its expertise to help us improve our practices, but also its credibility to strengthen our initiative. In parallel, we are also working with KUMI consulting, an international auditing firm specializing in responsible mineral supply logistics, which will audit our operations quarterly to see if we are acting in accordance with our commitments and standards and regulations. This is important for us, so that we do not become complacent, but it is also important for buyers, who also need to be sure that the cobalt they buy is clean. Finally, we will work to strengthen our relationship with a forum of mainly local, but also international NGOs to ensure smooth communication. For state control, things are fairly straightforward, although we are waiting for the Autorité de Régulation et de Contrôles des Marchés des Substances Minérales Stratégiques, ARECOMS, to be set up, as it will be the regulatory counterpart to EGC's action.
Tell us about this regulatory authority?
The main mission of the Regulatory Authority for the Strategic Mineral Substances Market is to put order into the system, i.e. to ensure that artisanal cobalt producers respect the standards imposed by the Congolese State or any other standards to which it has adhered, and that no sale of artisanal cobalt can take place outside of the EGC framework. We hope that ARECOMS will be set up quickly, because we need it to work, for the miners, their families, the Congolese state and the provinces. The fraud continues every day that we are not in action.
Back to EGC's Board of Directors. How were the members appointed?
I am a director so how would I know? You should rather ask the shareholders, starting with the Minister of the Portfolio and Gécamines. As you know, Gécamines belongs to the State.
Let's get back to the field. How it is going to happen concretely on the ground? There are talks about an AEZ (Artisanal Exploitation Zone). When will it be operational?
Kasulo is already an operational AEZ. There is a company that is active in this AEZ and we want them to succeed. At EGC, we have already established a transition plan, which we must submit to the provincial Minister of Mines before the site is handed over to us for management. Indeed, we must stop the operations of the previous operator, start the overburden work that has not been done for a long time, train the diggers to the standards we want to apply, give them safety equipment or set up a health unit for example. This plan has been validated by our various partners, Trafigura and PACT in particular. This is the first step before we can consider intervening on the site. Thereafter we will have 14 days of transition, ideally we would like to be able to start operations in early May.
Could you tell us more about the schedule of openings after Kolwezi? How many AEZs are you planning to establish?
For the moment, we are in discussion with Gécamines to keep in motion and specify a schedule so we know where to start. This should go fast because it is our parent company and these are its EP (Exploration Permits, editor's note). As long as ARECOMS is not in place, we will have to work with the Ministry of Mining to ensure that all this is legally constituted.
In your documents, you talk about approved work standards. What are these?
The work standards are available on our website. Whether it is with the cooperatives, the diggers or Trafigura, the EGC Responsible Sourcing Standards will apply all the stakeholders we work with. We are detailing all activities related to the site; the conduct of activities, reporting when there are incidents, governance, operational management for the cooperatives not only in terms of management, but also in terms of their functioning because we want to ensure that the diggers are paid in accordance with the agreements we will sign with the cooperatives, etc. We are already working with telephone operators, notably Orange, Vodacom and Airtel, on solutions facilitating reporting in order to have proof that a particular digger, who has an identity and a dedicated number, has been paid.
Let's talk about the environment, what kind of waste will you remove?
Cet article est uniquement réservé aux abonnés.
Pour en profiter, abonnez-vous dès maintenant.
Bénéficiez aussi:
D'un accès à tous les articles et vidéos
Les newsletters exclusives
Les magazines en version numérique